Weather
Hurricane Lee in New England: Timeline, conditions to expect, and how to prepare
Hurricane Lee is expected to pass New England Saturday and bring with it marine hazards, strong winds, and heavy rainfall.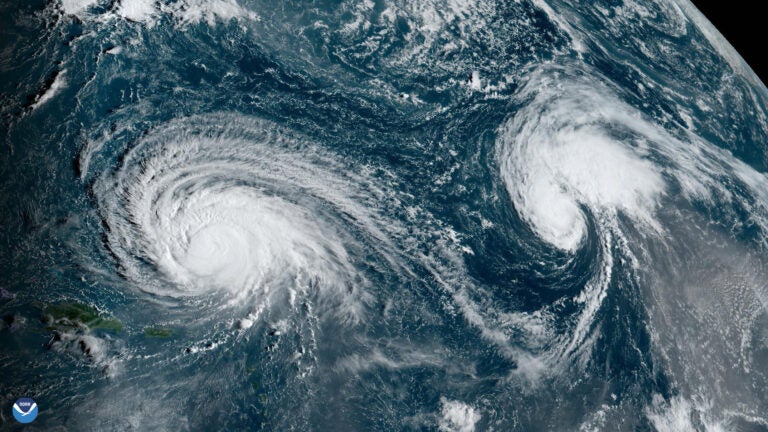 The large Hurricane Lee was traveling north toward New England and Canada Wednesday, with the latest track at 2 p.m. showing the system moving slightly east of Cape Cod and potentially hitting Maine on its way up.
Despite the fact that this storm — expected to be a Category 1 by the time it reaches the region — will most likely not hit Massachusetts, meteorologists said residents should still prepare for some severe weather conditions.
"The way we've been messaging it to folks is that it's a strong Nor'easter — minus the snowfall," said Bill Leatham, a local meteorologist for the National Weather Service.
Here's what weather conditions to expect and where Lee is now three days ahead of its New England arrival.
Lee's latest track
The National Hurricane Center's most recent update on Lee at 2 p.m. Wednesday showed that the hurricane was 1,015 miles south of Nantucket. It had sustained winds of 110 mph, a Category 2 hurricane according to the Saffir-Simpson Scale.
Meteorologists for NHC said Lee will slowly weaken over the next few days as it heads north to cooler waters, but cautioned that the system is "likely to remain a large and dangerous hurricane into the weekend."
That's because this hurricane has a larger wind field, which is when strong winds extend hundreds of miles from the actual storm. Leatham said this tends to happen to a hurricane that makes its way to our region.
"Usually when these storms get into our area, what happens is the winds of the system expand out from the center of it," Leatham said.
Tropical storm winds currently extend as far out as 240 miles, while hurricane-force winds extend as far out as 115 miles.
As of NHC's 2 p.m. update, most of Maine was in the cone of uncertainty. Massachusetts's Cape Cod was just outside of the cone's area. The cone of uncertainty does not reflect a current or certain track, but rather a probable track that becomes less certain the further out the hurricane is from the area.
Conditions in New England
Meteorologists knew Monday that marine hazards would be dangerous, specifically rip currents and waves, warning beachgoers and mariners to stay out of the water until Lee passes. Those conditions are already here, said NHC meteorologist Stephen Konarik.
What is also likely to be a problem, especially for Cape Cod and the islands, is significant storm surge and coastal erosion.
"It's a little too early to give specific values," Konarik said. "But there will be significant storm surge, especially north-facing beaches and coastlines, for a long period of time."
Now that the system is three days out, meteorologists are also a little more certain of what the area's next biggest threat is: winds.
Because Lee's wind field is so large, it doesn't need to hit Massachusetts for the state to feel tropical storm-force winds.
Leatham said Wednesday that the forecast shows Cape Cod and the islands seeing wind speeds up to 40 mph and wind gusts greater than 60 mph. Farther inland, wind speeds could clock in at 30 mph, with gusts at 50 mph.
These are the kinds of winds that could knock down power lines and trees, Leatham said.
The next threat is heavy rain. As of Wednesday, Leatham said Cape Cod and the islands could see up to two inches of rain, and the Boston area could see more than an inch.
But these amounts could change based on how west the storm tracks in the coming days and how quickly the storm passes New England.
Konarik said it's expected to move quickly.
"By later in the day on Saturday, things should be clearing up pretty quickly," he said. "That's one of the reasons the rainfall totals expected are not excessively high."
Lastly flooding could be an issue, especially given the amount of rain — and flooding — Massachusetts has seen recently.
The saturated ground, position of the track, and storm surge could play a role in how badly it floods, with flooding likely to be worse or occur along the coast.
How to prepare
Konarik said that residents living near the coast, especially Cape Cod and the islands, should know if they're in a flood-prone area and pay attention to hazardous road conditions in their area. Turn around if you encounter a flooded road, he added.
The Atlantic White Shark Conservancy removed its devices that track sharks' locations along the Cape ahead of the storm, NBC10 reports.
The Boston Globe also reported that towns along the Cape have asked residents to secure their boats or remove them from the water ahead of Lee's arrival.
Residents can also find tips for hurricane preparedness on Ready.gov.
Newsletter Signup
Stay up to date on all the latest news from Boston.com