World
A toddler is found alive three days after disappearing into the Australian bush
"It's probably inherent that he's a little survivor."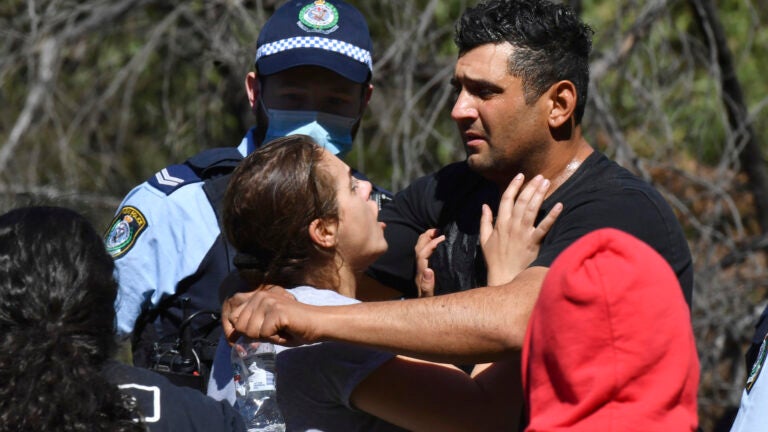 The search for 3-year-old Anthony "AJ" Elfalak had entered its fourth day, and his family was fearing the worst.
The boy, who is autistic and nonverbal, had gone missing midday Friday, and a search party of more than 385 people scoured the valley terrain – a "maze" of canyons, cliffs and bushland surrounding AJ's family's remote property near Putty, New South Wales. Fewer than 200 people live in the village about 70 miles northwest of Sydney.
AJ's mother, Kelly, was telling reporters she thought the boy had been abducted. A family friend elaborated on that theory, telling media outlets that a white vehicle had driven onto the property the day the boy went missing, when hours of surveillance footage had eerily disappeared. Although police had not issued an Amber Alert, they were investigating a possible kidnapping.
Search crews, meanwhile, were giving up hope. "Some of the searches we do don't have good outcomes and we were getting to a timeline with this one that was sort of starting to fade," Special Constable Kevin Drake, a helicopter pilot with the New South Wales police force's aviation-support branch, told news outlets.
But at 11:30 a.m. on the fourth day of searching, it was Drake who spotted movement as his helicopter swung low over a canopy of trees that gave way to an opening.
Drake and another pilot saw AJ sitting in a puddle in a creek bed, cupping water into his mouth. It was about a third of a mile from the family's property.
"I couldn't believe it, actually," Drake told reporters on Monday. "It was a really good feeling."
AJ's father said the toddler probably wandered from his family's rural home, which sits on a property spanning about 700 acres, and spent three days alone in the wilderness. The terrain posed numerous dangers – natural caves, fallen timber and wombat holes. Drake also said the search was more difficult because AJ does not speak, and "yelling out is not going to be an option."
But AJ was found in overall healthy condition, said Gerry Pyke, a paramedic who examined the boy after he was found. AJ had cuts on his lower legs and a diaper rash, Pyke said. AJ's father, also named Anthony, said the boy had some ant bites. Otherwise, AJ's condition was "remarkable," Pyke said, though the toddler was being monitored at the hospital.
"It's probably inherent that he's a little survivor," Pyke added.
"If he had access to water, he was always going to be able to survive for a longer period of time, with dehydration being the biggest issue," New South Wales Police Superintendent Tracy Chapman said at a news conference.
Chapman added that the police department is still investigating "what occurred during the course of that three days."
AJ's father told reporters that he believed his son wandered off the property. AJ had been last seen by his brother, Michael, at the family's home on Friday around 11:45 a.m.
"The guy's just grown feet now, and I think he wants to explore 700 acres," AJ's father told reporters.
After the helicopter pilots spotted AJ in the creek, two rescuers who had been guided in his direction walked past the boy because searching the terrain on foot is challenging, Drake said. A third rescuer spotted him.
The rescuer yelled out to the boy, but AJ did not respond, according to State Emergency Service Chief Inspector Simon Merrick. The rescuer was "actually able to walk all the way to him, put his hand on his shoulder . . . and [AJ] turned towards him with a massive smile on his face that he will not forget."
Newsletter Signup
Stay up to date on all the latest news from Boston.com