Restaurants
Hub Hall debuts at Hub on Causeway with 18 vendors
Boston's newest food hall opened Sept. 13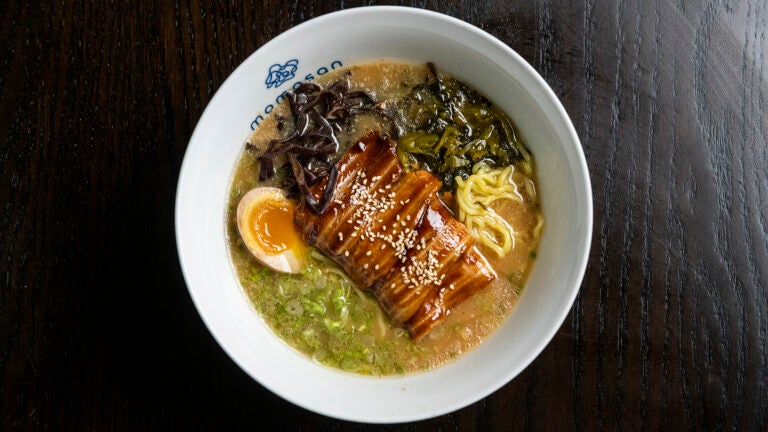 And just like that, it's finally open.
Almost two years after its planned launch date, Hub Hall at Hub on Causeway has opened to the public, debuting Sept. 13 with almost all of its 18 food and drink vendors in operation.
The food hall, located adjacent to TD Garden and North Station, has retained almost its entire original lineup since its inception, swapping New York-based chain Taco Dumbo for local taco spot Naco Taco. The vendors are a mix of fast casual spots like Juicygreens and Sullivan's Castle Island, along with chef-driven restaurants like Apizza, a pizza joint specializing in New Haven- and Roman-style pizza from MIDA chef Douglass Williams.
In addition to the food vendors, which include Boston stalwarts Mike's Pastry , Monica's Mercato, and Smoke Shop BBQ, Hub Hall is also keeping its guests hydrated with two bars: Now Pouring, which offers wine by the bottle and glass; and The Draft by Banners, which shares 24 draft lines with the neighboring Banners Kitchen & Tap.
Here's a complete list of all 18 vendors at Hub Hall.
MIDA chef Douglas Williams opened Apizza, a New Haven- and Roman-style pizzeria that is decidedly more casual than his Italian restaurant in the South End (and its Newton branch). Here you'll find pies topped with Rhode Island clams, braised short rib, fresh Italian sausage, and marinated artichokes.
Based in Revere, this family-run butcher shop has been making quality sausage since 1960, and now offers breakfast, lunch, and dinner options at the West End food hall. Snag a Bianco sweet Italian sausage with grilled peppers and onions before a game.
Warm up with New England clam chowder, NOLA shrimp gumbo, and pho at this newly created concept from chef Marc Orfaly. The James Beard nominee has previously worked with Navy Yard Hospitality Group (Pier 6, ReelHouse, Mija Cantina); his new pivot to soups and salads provides Hub Hall with healthy lunch and dinner options.
Boston's ubiquitous coffee shop, Caffè Nero, fuels Hub Hall diners in need of a quick caffeine jolt with a lengthy list of Italian coffee beverages. Choose from cappuccinos, cortados, flat whites, and frappes — not to mention all the baked goods and sandwiches.
You may already know Cusser's as a takeout window in the Back Bay that eventually expanded to the first floor of sibling restaurant Mooncusser. Now its growing even further with a spot at Hub Hall, where it serves roast beef sandwiches like The Three-Way, made with house-made barbecue sauce, mayonnaise, and cheese; and the 80 Thoreau with house sauce, cheddar cheese, and pickled red onions. Clam chowder, fish tacos, and other seafood options are also available.
This rapidly expanding Greek chain (additional locations include the Back Bay, Seaport, and Downtown Boston) offers gyros, salads, and its decadent GreCo fries, along with its cult-favorite loukoumas: Greek-style doughnuts offered in a variety of sweet combinations.
Get your kale smoothie fix at Juicygreens, a plant-based juice bar that Ammy and Michael Lowney first opened in Jamaica Plain in 2018. Their Hub Hall location offers smoothies, salads, cold-pressed juices, toasts, and bowls, like the Happy Buddha power bowl with romaine lettuce, purple cabbage, candied ginger, avocado, and green apple.
Chef Chris Parsons opened his fried chicken-focused restaurant, dubbed Lily P's, in Cambridge in December 2019, and has debuted a second outpost at Hub Hall. The eatery, named after his daughter, serves chicken sandwiches, as well as a variety of other poultry options.
North End cannoli staple Mike's Pastry brings its famed pastries even closer to TD Garden-goers who might not want to make the quick trek over to Hanover Street. The bakery opened its first shop in 1946 and maintains its place as one of Boston's most coveted food stops, where sweet-toothed guests can watch their treats being wrapped up in Mike's signature white boxes with twine.
Momosan is more than just a grab-and-go option before a game: The ramen restaurant and izakaya comes from Masaharu Morimoto of "Iron Chef" fame. In addition to bowls of ramen and grilled yakitori dishes, the menu features hamachi tacos, spicy chicken wontons, and sticky ribs.
North End staple, Monica's Mercato, will be joining the food hall's lineup shortly. Owned by the Mendoza family, the shop serves classic Italian sandwiches, including meatball, chicken parm, and Italian steak tip.
This full-service Mexican restaurant at Hub Hall makes its own tortillas in-house. Order from a selection of tacos, like the fried cod taco with cabbage slaw, or, for something heftier, a torta — the pepito comes with flank steak, Oaxaca cheese, arugula, and pickled jalapenos.
Missed your train at North Station? Wait it out with a glass of wine at Now Pouring, a wine bar from the Patina Restaurant Group. The bar features a rotating list of reds, whites, and bubbly, incorporating both Old World and New World bottles that will change with the season.
With a successful location overlooking the water in East Boston and a newer Quincy outpost, ReelHouse has expanded its footprint to Hub Hall with ReelHouse Oyster Bar. Chef Marc Orfaly showcases a seafood-centric menu with a focus on a raw bar and charcuterie.
Sauce is burger central at Hub Hall, serving custom-blended ground beef burgers with buttered brioche buns and a strong selection of house-made sauces. The restaurant was originally founded in Andover with a concentration on wings and ribs, but this new outpost is decidedly burger-focused, offering a rotating "Burger of the Month" special.
Next stop for Andy Husbands' growing empire: Hub Hall. The celebrated barbecue joint serves the pitmaster's award-winning ribs, wings, and pulled pork, plus sandwiches and sides like pit beans, pimento macaroni and cheese, and Texas toast.
The seasonal opening of Sullivan's, a seaside shack in South Boston, marks the beginning of spring in Boston, a time when locals form lines outside the eatery to snag a lobster roll, cheeseburger, and soft serve. This new Sullivan's is open year-round, offering guests a chance to enjoy fried seafood near TD Garden throughout all four seasons.
Banners Kitchen & Tap launched at The Hub on Causeway with TopGolf and a massive TV, as well as a draft list that highlights 60 of New England's best draft beers. A spinoff, The Draft by Banners, features 24 of those 60, rotating on a regular basis as a partial homage to the drafting of players whose talents are on display at nearby TD Garden.
Hub Hall at Hub on Causeway; 80 Causeway St., Boston; Mondays—Thursdays from 6 a.m. to 9 p.m., Fridays from 6 a.m. to 10 p.m., Saturdays from 7 a.m. to 10 p.m., Sundays from 7 a.m. to 8 p.m.; hubhallboston.com
Sign up for The Dish
Stay up to date on the latest food news from Boston.com.