Restaurants
The Dish: 5 things to eat and drink in Boston right now
Including: Poke bowls on Plum Island, globally-inspired hot dogs, and margarita freeze pops.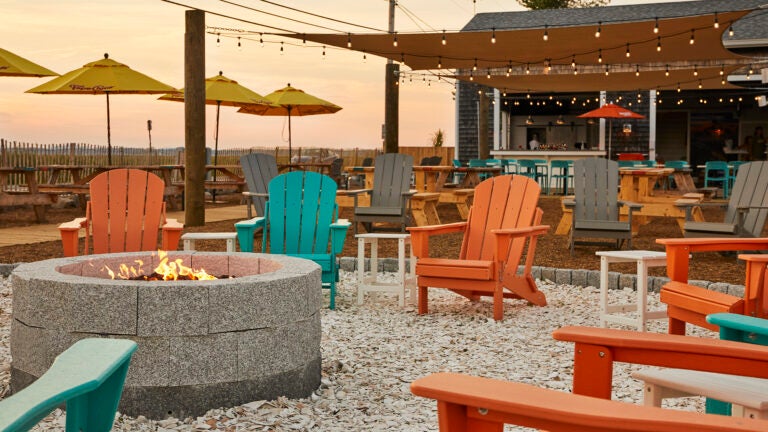 Wondering what to eat and drink in Boston this weekend? The Dish is a weekly guide to five things in the local restaurant and bar scene that are on my radar right now. Shoot me an e-mail at [email protected] to let me know what other dishes and drinks I should check out.
If you weren't able to catch Foundation Kitchen's last pop-up, you'll have another opportunity this weekend. Until 9 p.m. on Friday, the upcoming cafe, wine bar, and culinary workplace will showcase a selection of its vendors at The Graphic Lofts in Charlestown. Wild Fox Pierogi, Bombay Brunch, Kind Roots, and BFF Kitchen are some of the businesses taking part, along with Odyssey's, a concept that serves globally-inspired hot dogs. Find all the vendors at The Graphic Lofts Courtyard, where you can also order Fermenta beer and wine to go.
There might be a hurricane moving our way this weekend, but it's looking like the rain will hold off for The Sunset Club's debut on Friday. Hey, a solid sunset might even be in store. The Plum Island newcomer, located at 4 Old Point Rd. by Newbury Beach, opens with casual beachside fare, including ultra-fresh ceviche and poke bowls made with sticky brown rice, radish, avocado, edamame, shishito pepper, sriracha, and Kewpie. Naturally, the cocktail program veers toward tropical drinks, and the Cottage Colada has my name on it: Flor de Caña Rum, Stiggins Fancy Pineapple Rum, caramelized Coco Lopez, pineapple, and lime. Snag a seat on one of the Sunset Club's outdoor picnic tables, then head to the bocce court for a post-ceviche game.
Prairie Fire's cozy dining room is the perfect date night spot, but now there's a new reason to head outside and into … a parking lot? The restaurant recently set up a beer garden in the Webster Street lot, open Wednesdays through Sundays from 4 p.m. to 10 p.m. The beer garden menu is a more casual affair than its restaurant counterpart, but you can still find comforting items like a Bavarian pretzel served with cheese and mustard from sister spot Steel & Rye Bakery. Seating is on a first come, first served basis, so plan accordingly.
Biz Markie, the DJ and rapper who skyrocketed to fame after the release of his '89 hit "Just a Friend," died in July, and White Lion wants to make sure we properly celebrate the legend's passing. The Springfield brewery will host A Tribute to Biz Markie and The Juice Crew Era Day Party on Saturday from 5 p.m. to 9 p.m., featuring Pzo Pete at the turntables and plenty of White Lion beer. Try the recently released Enshrinement, a tropical New England IPA that's part of the Legend Series and made with Bru-1, Motueka, and Citra hops.
Alma Cantina quietly opened downtown in August, bringing tacos, street corn, and plates of simmered carne asada to the former Blackstone Grill space. There's a lot that catches my eye here — taco options include Baja white fish, charred octopus, pork belly, and more — but the chorizo mussels really stand out. Chorizo is mixed in with mussels, onion, garlic, and cilantro, with a little Dos Equis lager to give it some zing. And on a hot day, I'm looking forward to trying the freeze pops made with Cutwater margarita, a canned margarita that comes in flavors like mango and strawberry.
Sign up for The Dish
Stay up to date on the latest food news from Boston.com.